Every branch is locally owned and operated, with full support from Laser national management. Whether we're working for a residential builder, commercial and industrial customers or home owners, we strive to meet and exceed our customers' expectations everytime!
Totally Dependable Guarantee
Local branches, national coverage
Expert help when you need it
Laser Electrical offer a nationwide network of highly qualified, experienced electricians who can assist in the following areas:
Specialised areas, such as Agricultural & Horticultural
Our members will provide you with friendly, professional and knowledgeable service, as well as their "Totally Dependable" Guarantee.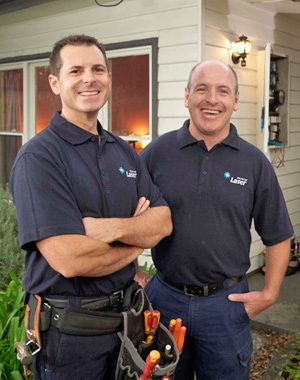 ---
"Totally Dependable" Guarantee
Every Laser Electrical member company provides you with 'Totally Dependable' service, guaranteed!
Timely delivery
Promise of care and skill
Appropriate work for customers needs
Well presented, professional employees
Ensure responsibility of material supplied
Honour manufacturer's guarantees
Meet and frequently exceed our customers' expectations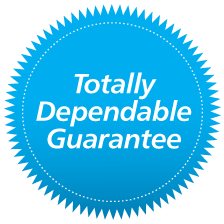 ---
Our Story
Laser Electrical and Plumbing currently has over 250 members and has evolved to become the leading electrical and plumbing contracting network across Australia and New Zealand.
In 1983, Peter Bassett and David Clemmett, two entrepreneurial electricians, decided to set up their own electrical contracting company, called Laser Electrical Ltd. The business grew rapidly with a strong focus being placed on outstanding customer service and implementing strong business systems.
In 1999, the Laser business model was developed and licensed. In 2003 it became a full membership business model.
In 2004, Laser expanded its operations into Australia. Due to a company culture that recognises innovation, Laser Plumbing was initiated in 2006, which utilises the same award winning systems and processes Laser was built upon in both the Australian and New Zealand market.
Laser Electrical and Plumbing currently has over 250 members and has evolved to become the leading electrical and plumbing contracting network across Australia and New Zealand. Based on the vision of becoming the leading provider of Totally Dependable Electrical and Plumbing Services, utilising Laser's leading process control systems and recognising the demand in the market for a national supplier, our Member businesses are all enjoying all the benefits that come as part of the multi award winning Laser business system.
---
Our Clients
At Wayne Phillis Ford & Kia, we rely on the prompt and reliable service of Laser Electrical at all our locations. We have found them to be a one-stop-shop for all our phone, data and electrical requirements, and their after hour service is also outstanding. The Laser office staff and electricians are friendly, cheerful and competent."
Wayne Phillis
Ford & Kia
---
We here at Glenelg Plumbing use Laser Electrical. We have always found their service to be prompt, reliable, efficient and helpful."
The Team at Glenelg Plumbing
---
Thanks for the latest wiring job - done with very prompt efficiency. Everyone I spoke to was a credit to your business."
Alex
Diamond Creek
---
We can't speak highly enough of your electrician... He is a great young man and he did a very thorough job... Thanks again for a job well done."
Trevor
Wheelers Hill
---
Your electrician was very helpful in explaining things and communicated well. He was friendly and represented your company extremely well. Laser Electrical is fortunate to have such a fine team of workers."
Chris
East Doncaster
---
Laser Plumbing and Laser Electrical have been our preferred contractors for over 5 years. In that time I have found both to deliver exceptional service. They have gone beyond the call of duty to ensure that any current issues are dealt with quickly and efficiently. Their response time is excellent and their compliance to all O.H& S and B.C.A's are second to none. I thoroughly recommend both Laser Plumbing and Laser Electrical to anyone in the facilities management business."
Ivan Camporse
National Assets Development & Facilities Manager
Dimmeys Stores Pty Ltd
---
Your company and staff have supplied the best electrical installation service that we have ever experienced and have far exceeded our expectations with Gareth and his team prepared to go to any lengths to ensure a very high quality finish that not only can we be proud of, but yourselves as well. Nothing was too much trouble, it was a real pleasure to work with you and your team."
Richard & Liz Ward
Reward Developers Ltd
---
Fowler Homes find Laser Electrical / Laser Plumbing have the desire and skills to provide our clients what they need in homes built now that will be more valuable in the future."
Ivan Stanicich
Managing Director
Fowler Homes
---
When Generation Homes made a decision to grow into a national company is was evident that aligning with likeminded professional companies within our industry would accelerate success. The Laser Group was one such company that fitted our criteria set out prior to commencement of our national growth. Laser group was chosen to cover off three requirements, Drainage, Plumbing & Electrical. We have found all Laser members accommodating in all regions, this has enabled a strong relationship to be built in a short period of time. I would have no hesitation in recommending the Laser Group of business' to any other business looking for a supplier in these categories."
Mark Kopke
National Operations Manager
Generation Homes
---
We have dealt with Laser Group since 2007, during which time they have provided Genesis energy with excellent electrical services and maintenance when required. They have approached all their work in a professional manner. I can confidently recommend Laser Ltd as a solid and reliable supplier, and experts in their field."
Serena Turnock
Genesis Energy
---
Over the past nine years I have worked with Laser Group, both Plumbing and Electrical and have built projects from Opononi to Ohakune utilizing the nationwide network of reliable trades people at competitive rates. The systems and relationship between the two companies is a vital ingredient for Location Homes providing an efficient and reliable product on a nationwide basis."
Mark Waller
Location Homes, Northland
---
Laser Electrical have been employed by our company as an Electrical / Fire protection subcontractor for the past 19 years. We have found them to be a competent and professional business, who have always completed their work to the deadlines set. Their workmanship is of the highest standard. We have no hesitation in recommending Laser Electrical to further clients."
Kelly Thompson
Managing Director
Thompson @ Devvany Construction
---